Arthur Ashe Stadium Seating Chart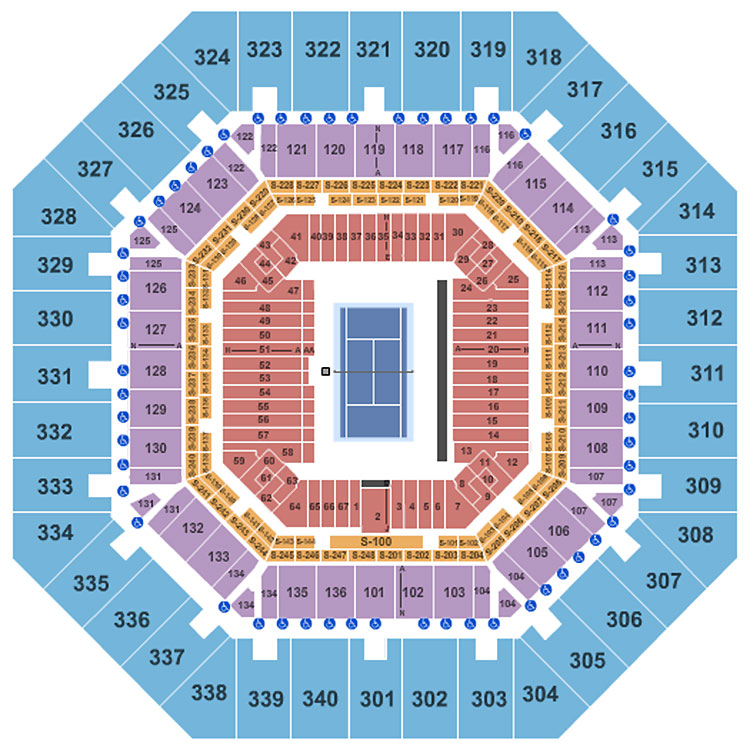 NOTE: Seating layouts may change depending on the event. Make sure you check the individual seating map when selecting your tickets.
The behemoth stadium is shaped in an octagon and has a total of 22, 547 seats. The ringside seats are definitely some of the very best seats to watch the action in the US Open. However, the court is also surrounded by 90 luxury boxes that offer personalized services.
The last row, 300 level, is above 120 feet above the court thus, making it extremely difficult to watch the games. It is inadvisable to purchase the last row if you are a true tennis fan unless you are happy to watch the matches on the big screens.
Please be noted that since the stadium is huge and the umpire does not usually request for audiences to remain silent, disturbance may be unavoidable. This is especially true for those who are in the 300 level.
The 100 level is by far the more affordable and has relatively good-view seatings.
Reserve your seat and order your tickets today! Visit the events page to get started.
For more information on the ticket policy and the preferred ticket provider please view the Arthur Ashe Stadium tickets page.
For all upcoming events at the Arthur Ashe Stadium please view the Arthur Ashe Stadium events page.