Arthur Ashe Stadium Information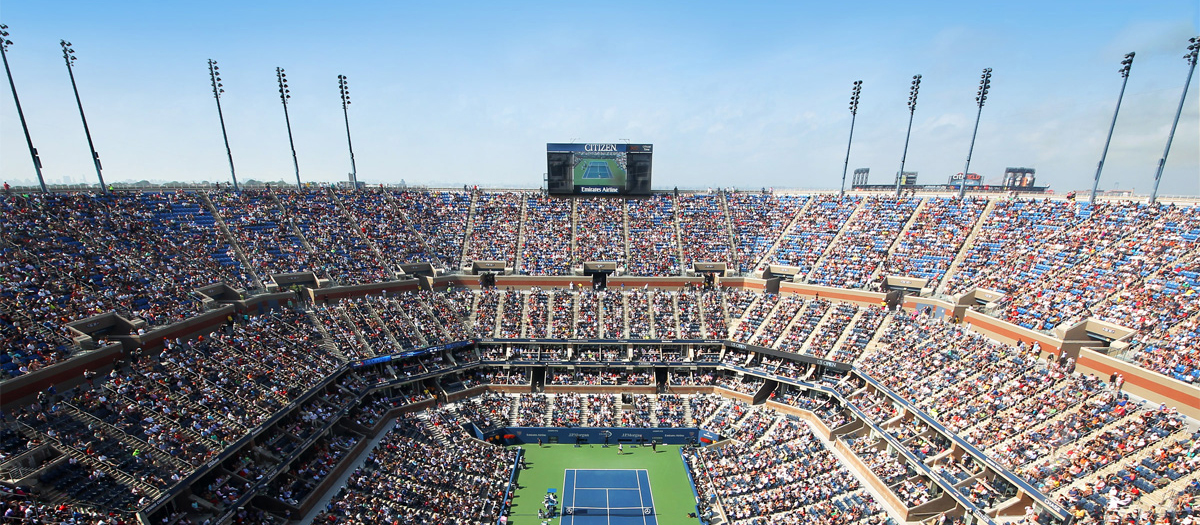 The Arthur Ashe Stadium has over 22,500 seats, 90 luxury suites, five restaurants, and a two-level players' lounge. It is the main tennis stadium of the US Tennis Open and by far the largest outdoor tennis-only arena in the world. It is also part of the United States Tennis Association (USTA), Billy Jean King National Tennis Center.
The Arthur Ashe Stadium is located in Flushing Meadows Corona Park in the New York borough of Queens. This stadium has a DecoTurf cushioned acrylic surface just like the rest of the venue in the Billy Jean King National Tennis Center.
When the stadium was initially built, the design did not include provisions for future installation of a retractable roof. Thus, when the change of weather happened, the solution was a roof that does not actually touch the stadium. Rossetti designed a lightweight retractable polytetrafluoroethylene (PTFE) membrane roofing system that is supported by 1,700 self-supported structural beams. The whole process for the roof to seamlessly cover the stadium takes less than 10 minutes.
The stadium was completed in 1997 and the retractable roof was later on completed in 2016. The Arthur Ashe Stadium was architected by Rossetti firm that is headquartered in Detroit, Michigan and was built at $254 million cost. The facility was built to replace the Louis Armstrong Stadium as the primary venue for tournaments. On August 25, 1997, the stadium was christened by hosting the US Open, with Whitney Houston singing One Moment in Time, honoring the late Arthur Ashe.
Every tennis fan in the world knows who Arthur Ashe is. In honor of this champion player, this stadium was named after him. Arthur Ashe was ranked World No. 1 by Harry Hopman in 1968by Lance Tingay of The Daily Telegraph as well as World Tennis Magazine in 1975.
Other than that, Arthur Ashe Stadium features a Hawk-Eye electronic system. This system allows tennis players to challenge the umpire's decision on calls. The color scheme for all 35 courts was changed from green to electric blue inner courts and a light green outer court in 2005. The color scheme provides television viewers a more easily trackable ball as yellow tennis balls contrast more visibly against the blue courts.
For more information on the Arthur Ashe Stadium, please see the specific pages below.
Parking Information:
Arriving by car? Read about parking options on the  Arthur Ashe Stadium parking information page.
Ticket Policy:
For information on ticket guarantee and other ticket related questions, view the Arthur Ashe Stadium tickets page.
Seating Information:
For information on accessible seating and to view the Arthur Ashe Stadium seating chart page.